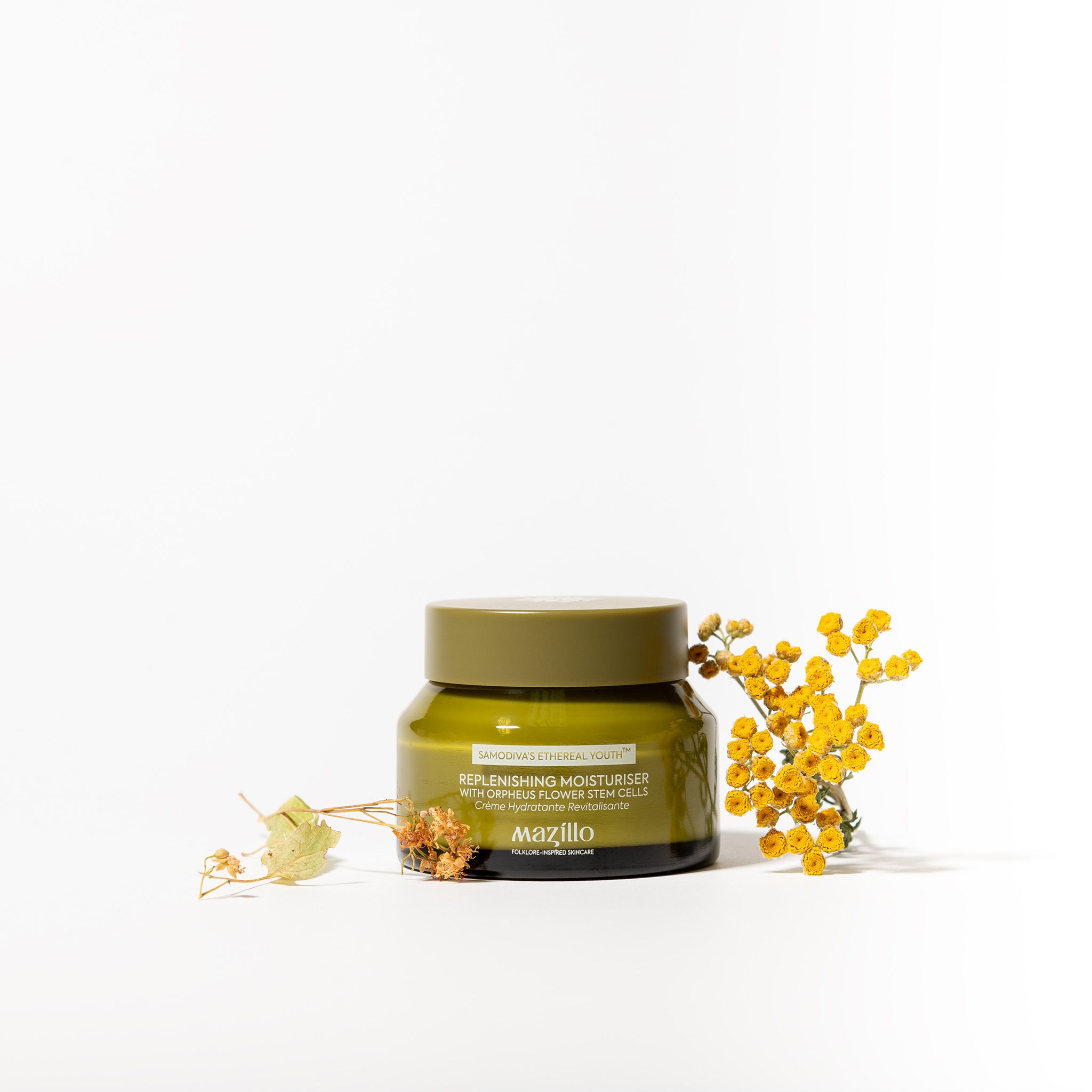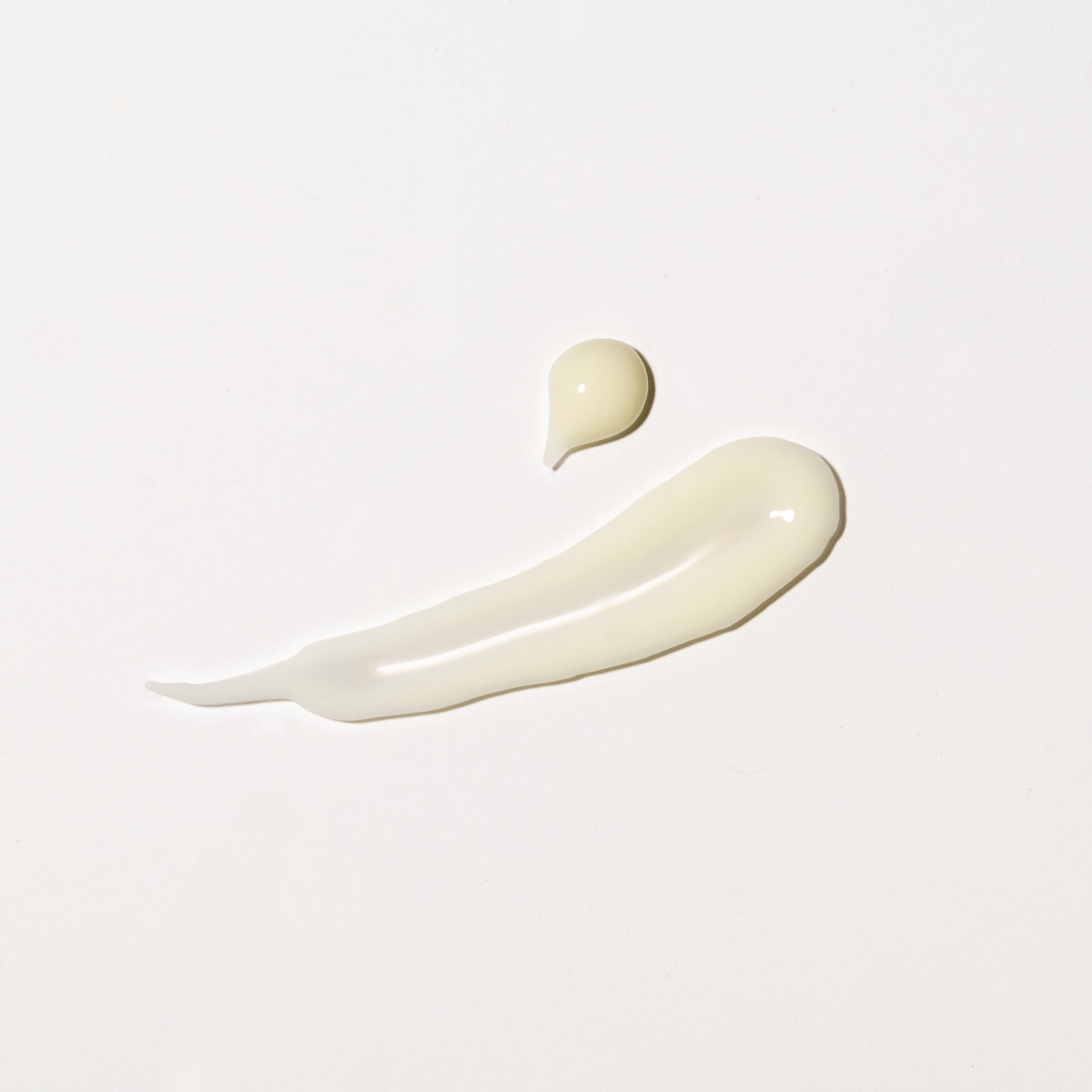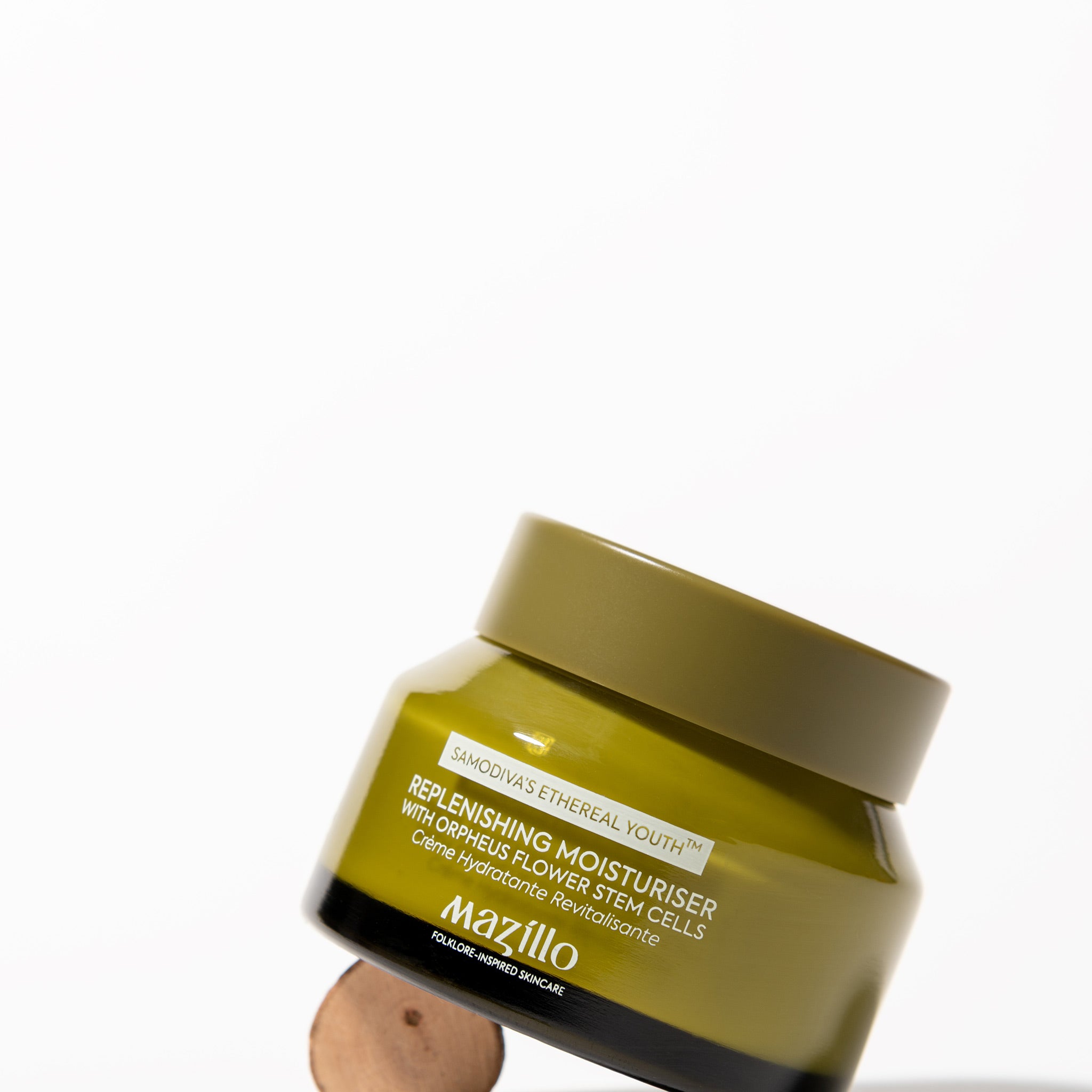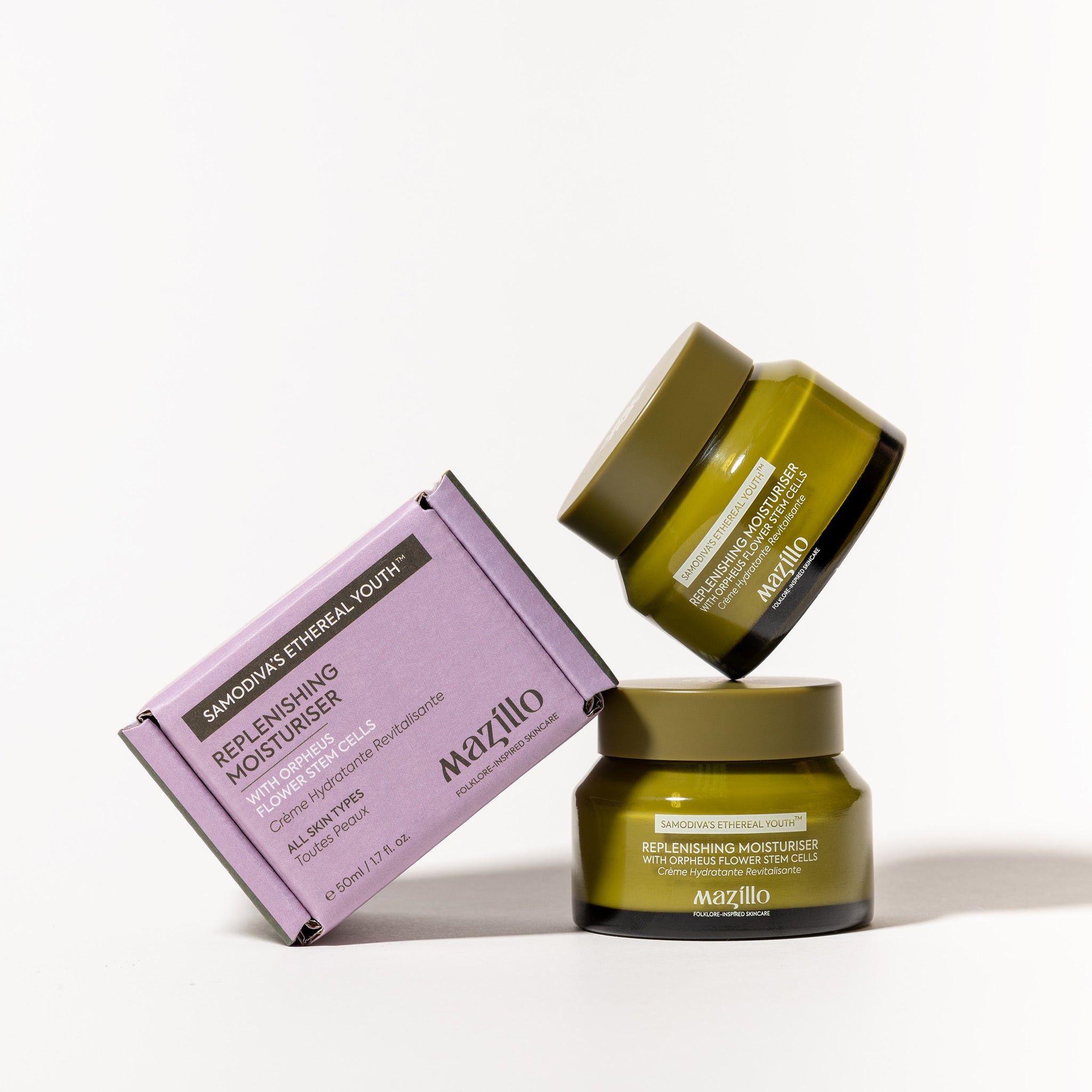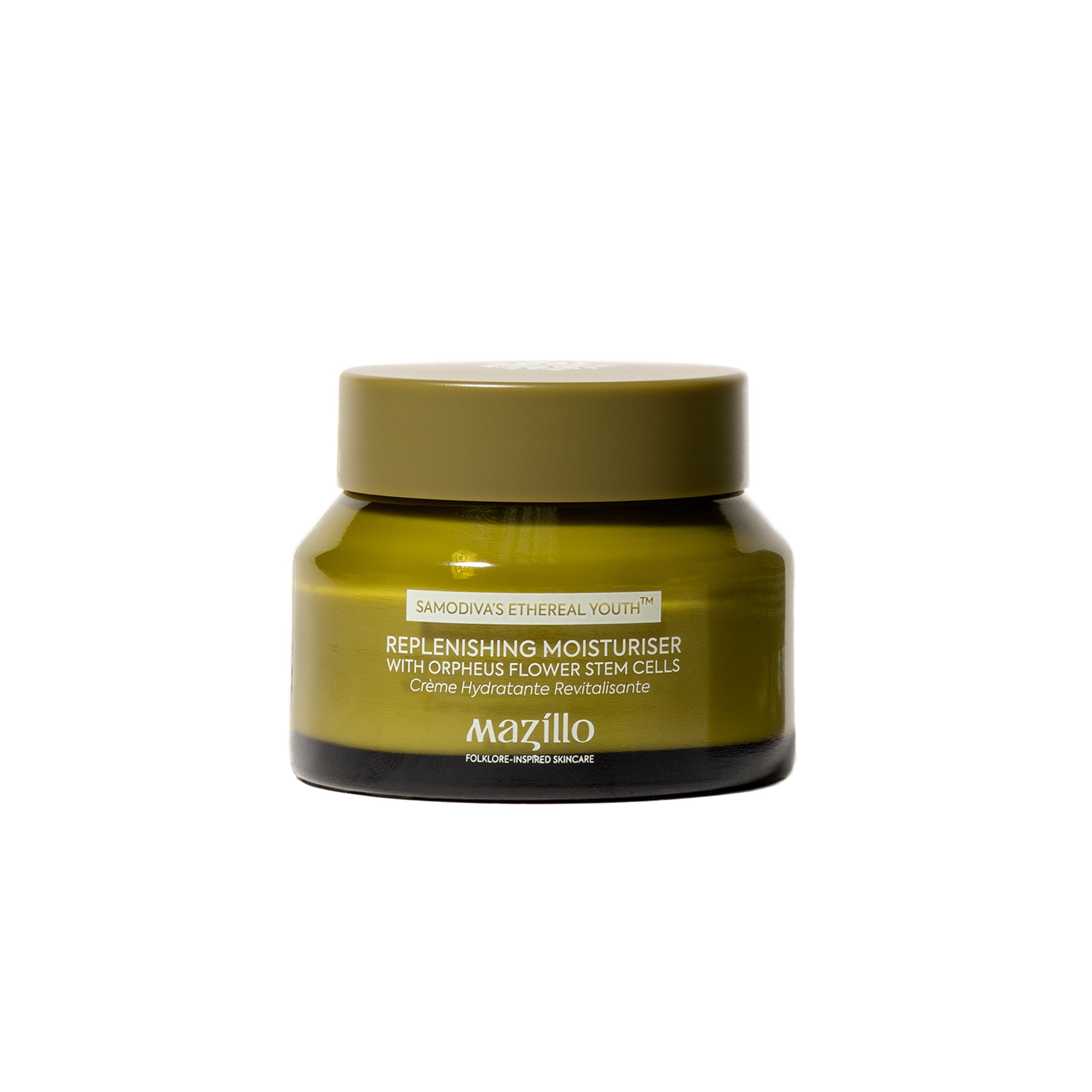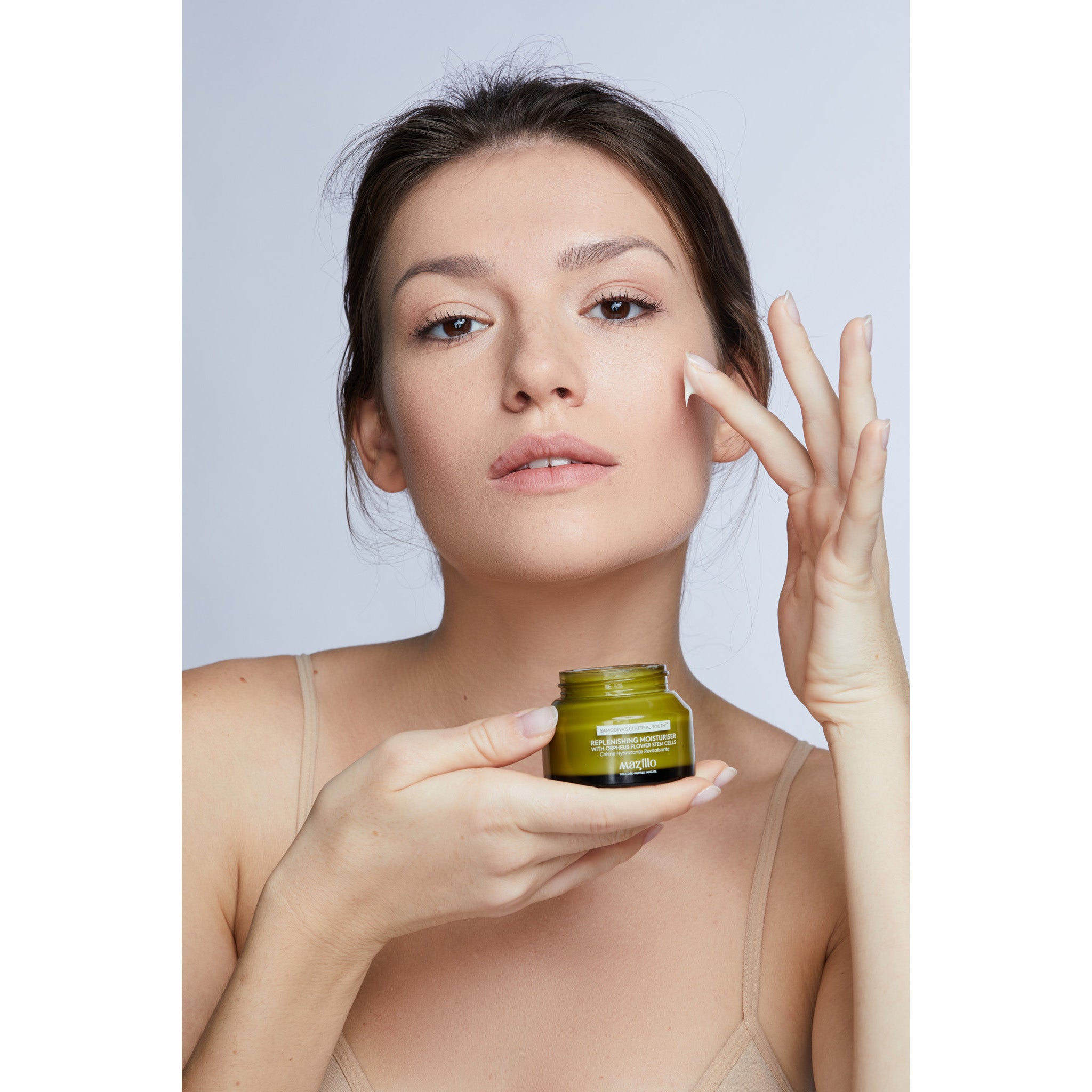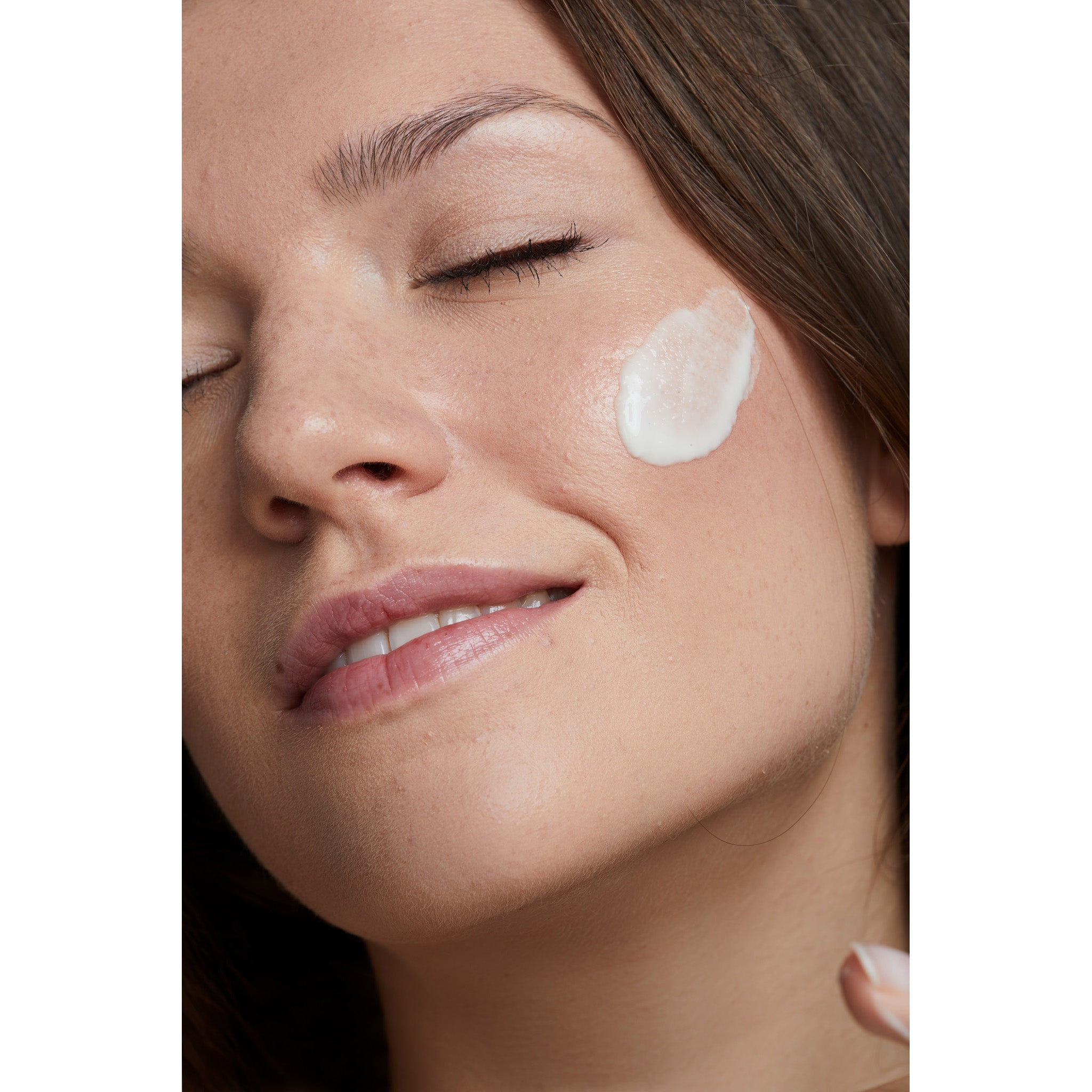 SKIN RESURRECTING STEM CELL BOOST.
Found exclusively in the Rhodope region of Bulgaria, the rare Orpheus flower facilitates skin's natural regeneration, just as the legend says. This 100% natural refreshing light formula will leave your skin hydrated, replenished and radiant. Backed by tradition, powered by stem cells, the Replenishing Moisturiser is loved by our customers for its unique dreamy texture and silky soft finish.
79.4% of our moisturiser is made with locally sourced ingredients from Bulgaria
ACTUAL RESULTS
Lab studies show that Orpheus Flower Stem Cells is a powerful anti-age active ingredient. Results indicate significant skin lifting through increased skin elasticity, enhanced radiance, hydration as well as decreased pigmentation after 4 weeks application.

↬ 28% increase in skin elasticity

↬ 22% increase in skin radiance

↬ 11% increase in hydration


AQUAXYL™ + Glycerin
↬ 56% improvement in moisturization in 21 days
SEE CLINICAL STUDY RESULTS
BENEFITS FOR SKIN

↬ Replenishes and stimulates skin's natural regeneration 

↬ Hydrates 

↬ Provides skin lifting effect through increased skin elasticity 

↬ Enhances skin radiance 

↬ Helps decrease pigmentation 


KEY INGREDIENTS
ORPHEUS FLOWER STEM CELLS - Legend says when the mythical hero Orpheus lost his wife Eurydice, an immortal flower was born from the tears he shed upon the Rhodope mountains. The Orpheus flower is believed to have existed before the Ice Age and has survived over 20 million years thanks to its remarkable ability to endure extremely long periods without water. As a result, the Orpheus flower stem cells have a proven skin lifting effect, and also decrease pigmentation while hydrating and making the skin more radiant. They also contain an active component named myconoside, which stimulates collagen synthesis and elastin.
IMMORTELLE OIL is one of the most valuable and rare oils which is grown in only a few places in the world, one of which is here, in Bulgaria. The oil is unsurpassed in its ability to rejuvenate the skin. It supports the natural regeneration of the epidermis and makes the skin firm, smooth and radiant.
ROSEHIP OIL is one of the most effective oils for treating wrinkles and scars as it helps strengthen the skin's protective barrier. It has a firming and toning effect and smoothes the complexion. What's more, the rosehip oil we use is obtained from wild growing rosehips which ensures the higher amount of antioxidants.
Ingredients glossary
FULL INGREDIENTS LIST
INCI
TILIA CORDATA (Linden) FLOWER WATER, SALVIA SCLAREA (Wild clary sage) FLOWER/LEAF/STEM WATER, MELISSA OFFICINALIS (Lemon balm) FLOWER/LEAF/STEM WATER, CAPRYLIC/CAPRIC TRIGLYCERIDE, GLYCERIN (AND) HABERLEA RHODOPENSIS LEAF EXTRACT (Orpheus flower stem cells), COCO-CAPRYLATE/CAPRATE, ARACHIDYL ALCOHOL (AND) BEHENYL ALCOHOL (AND) ARACHIDYL GLUCOSIDE, ROSA CANINA (Rosehip) SEED OIL, PENTYLENE GLYCOL (AND)  PHENYLPROPANOL, ACACIA SENEGAL GUM (AND) XANTHAN GUM, MYRISTYL ALCOHOL (AND) MYRISTYL GLUCOSIDE, XYLITYLGLUCOSIDE (AND) ANHYDROXYLITOL (AND) XYLITOL, GLYCERIN, PRUNUS DOMESTICA (Plum) SEED OIL, SILYBUM MARIANUM (Milk Thistle) SEED OIL, CANNABIS SATIVA (Hemp) SEED OIL, CUCURBITA PEPO (Pumpkin) SEED OIL, CETYL ALCOHOL, HELICHRYSUM ITALICUM (Immortelle) FLOWER OIL, SODIUM PHYTATE, TOCOPHEROL (Vitamin E), HELIANTHUS ANNUUS (Sunflower) SEED OIL, LINALOOL+, CITRAL+, LIMONENE+ 
+Naturally occurring in essential oils

↬ Manufactured by us in Bulgaria
DIRECTIONS
Apply morning and evening or whenever you skin feels the need for a moisture top-up.

P.S. We recommend to warm the moisturiser between your fingers in order to activate the ingredients better. Also, you can add 2-3 drops of our Facial Oil to achieve additional hydration.